acne + breakouts
1 min read
Your ultimate clear start sustainability cheat sheet
No more panic googling how to recycle your favorite skincare products! Consider this your complete recycling guide to Clear Start's full range of products.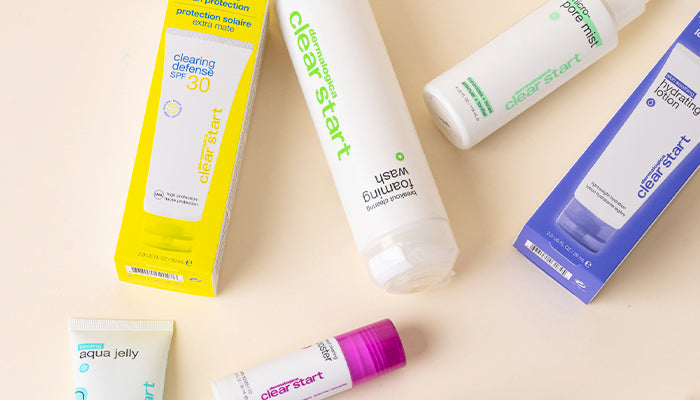 We've all found ourselves asking the same question, staring into the bathroom garbage bin piled high with bulky cartons and empty skincare bottles: Why does the cosmetic industry make product packaging so confusing to recycle? (Think: elaborate, glossy lettering, cardboard sleeves, paper inserts, and those stiff plastic tubes as long and wide as the Gulf of Mexico.)
As skincare buffs, we were beyond exhausted with the conflicting feelings of loving but feeling guilty not knowing how to recycle our staple beauty and cosmetic products. I mean, isn't acne stressful enough? So this last year, we've made it our initiative to lessen our use of virgin plastics and excess paper packaging by creating more sustainable options for ourselves (and you!) beginning with our packaging. We're incorporating more Post-Consumer Resin (PCR) aka recycled plastic and Forest Stewardship Council (FSC) certified paper for our cartons. Beyond that, we prioritize making cruelty free and certified vegan products in an attempt to conserve world wildlife.
As a part of our commitment to transparency and sustainability, we're offering you this comprehensive guide to recycling our products.
How to Recycle Your Clear Start Empties:
Before recycling, double check your local recycling guidelines to ensure that you're following the rules in your area. Happy recycling!
---