What is double cleansing?
Double Cleansing is cleansing the skin twice, first with an oil-based cleanser, then with a water- or surfactant-based cleanser.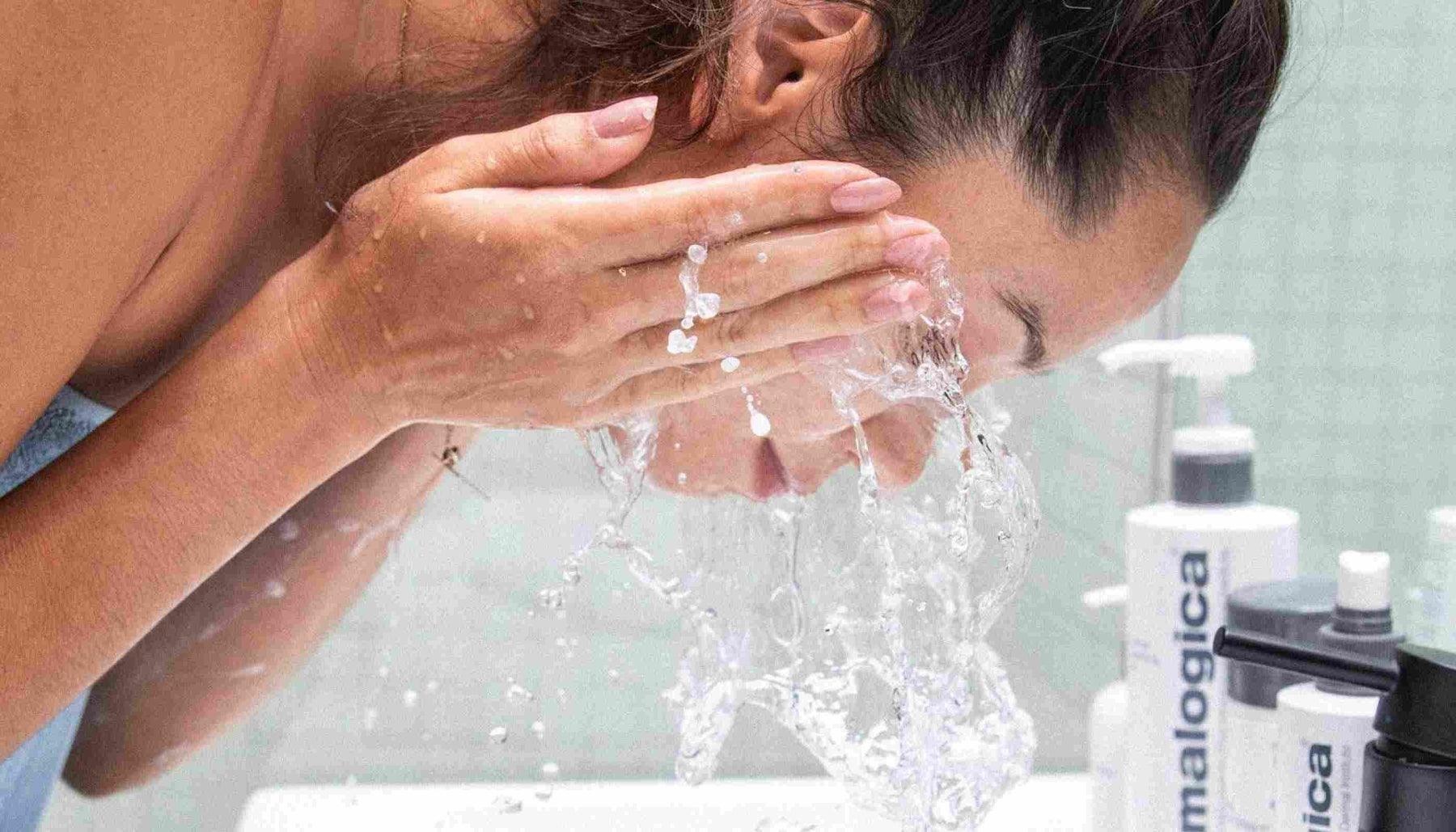 Story Highlights:
What is double cleansing?

 

Benefits of double cleansing

 

When to double cleanse?

 

How to double cleanse?

 

The best double cleansers according to your skin type

 
what is double cleansing? 
Double cleansing is cleansing the skin twice, first with an oil-based cleanser, then with a water-based cleanser, gel, or foaming cleanser. The Dermalogica Double Cleanse - aka the secret to healthy, ultra-clean skin - easily removes layers of buildup, makeup, products, and oily debris, allowing your second cleanser (we recommend a prescribed Dermalogica cleanser) to penetrate even further for a professional level of clean. Sometimes time is of the essence and you might not have room in your schedule to cleanse twice - this is the perfect opportunity to try Oil to Foam Total Cleanser. Our new formula offers all the benefits of double cleansing, in half the time. Within seconds, this innovative gel-oil transforms into a rich foam to remove layers of daily buildup and cleanse the skin so it's instantly soft and smooth. 
why is double cleansing important?
If you're like most people, you only spend about 20 seconds cleansing with standard face washes or makeup removal wipes. That's not enough to penetrate the layers of debris that can accumulate throughout the day, especially if you love to wear makeup or live in a congested area. Even after a single cleanse, you're left with excess sebum, makeup, pollutants, and grime that give your skin a dull, congested appearance and prevent your skin care from doing its best work.  
 Cleansing your skin twice with the same cleanser also doesn't thoroughly cleanse the skin. As chemistry tells us, "like attracts like," which is why Dermalogica developed a Double Cleanse technique that involves first cleansing with an oil-based formula that can deconstruct and dissolve layers of oily buildup for a deeper clean. 
benefits of double cleansing
Doing two steps offers multiple benefits for those who wear makeup or not. The oil-based cleanser doesn't just break down debris; it helps fortify your skin barrier, softens the skin, and allows the targeted ingredients in your second cleanser and other products to work more effectively to get you the results you'd like to see.   
how to double cleanse
Step One:
Massage with our original Precleanse Cleansing Oil over dry face and eyes to attract and dissolve surface oil and dirt and remove makeup. Concentrate on areas of congestion or stubborn debris. Wet hands and continue massaging to create a milky emulsion. Rinse with lukewarm water.  
Step Two:
Wash your face with your prescribed Dermalogica Cleanser to remove any residual impurities. 
The result? A thorough clean that sets you up for your healthiest-looking skin daily.
the best double cleansers according to your skin type
Your prescribed Dermalogica cleanser targets your skin's specific needs. Read on to learn which one is best for you and your skin condition!  
All skin conditions, all-in-one formula
Introducing Oil to Foam Total Cleanser, an all-in-one cleanser that removes make-up and sunscreen while also cleansing skin, leaving it feeling instantly soft and smooth. The formula starts as a golden gel-oil to melt away layers of make-up, sebum (oil), and sunscreen and debris – then transforms with a splash of water into a rich cloud-like foam to quickly wash away any remaining impurities.
acne, adult acne, and breakouts
breakout clearing foaming wash 
Here is your breakout-fighting, foaming cleanser to cleanse oils, dead skin cells, and dirt that clog pores and cause breakouts. It's a gentle cleanser with a formula that doesn't strip the skin as it removes excess oils while being safe for daily use day and night.  
This foaming cleanser helps clear skin and reduce the signs of visible skin aging. It stimulates natural exfoliation to help clear clogged follicles and smooth away dullness that contributes to visible skin aging.  
dry skin
When skin feels tight, itchy and flaky, use Intensive Moisture Cleanser, a light, creamy cleanser enhanced with BioReplenish Complex to remove impurities while actively nourishing dry, depleted skin.
double cleansing for sensitive skin
Gentle cleansing requires products that delicately fortify the skin's protective barrier without leaving an irritating residue. If your skin feels inflamed after cleansing, wash your face with UltraCalming Cleanser to keep it feeling refreshed. It's a gentle cleanser with a non-foaming gel/cream base that helps calm and cool reactive, sensitized, or overprocessed skin.  
oily skin
Oily skin needs to have a cleanser that doesn't strip the skin but protects the skin barrier to help balance excess oil production. Try cleansing your skin with dual-action, mineral-rich clay Active Clay Cleanser with a charcoal formula. It actively cleanses and purifies while helping to protect the skin's natural lipid barrier and promote a healthy microbiome while leaving skin smooth, refined, and revitalized. 
dull or lackluster skin
This skin type is often caused by a buildup contributed by environmental factors, sebum, and dead skin cells. For radiant, healthy-looking skin, wash your face with Daily Glycolic Cleanser, a brightening and conditioning cleanser that renews dull, uneven skin tone and helps condition and replenish skin while maintaining the skin's lipid barrier. 
best for every skin type 
Cleansing your skin with a soap-free, foaming cleanser with a gel base is essential to most skin care routines. Special Cleansing Gel works to cleanse all skin conditions with a refreshing lather that thoroughly removes impurities without disturbing the skin's necessary natural oils and moisture balance. 
Get more skin care tips at dermalogica.com
Want to learn more about which skin care products are right for you?

Visit your local Dermalogica skin therapist for a completely customized regimen.


---